Hello!
Last year a whole bunch of awesome new releases, many of which became some of my all-time favourite books. This year, in 2016 there's a brand new line up of books coming out that I can't wait to read. So today I wanted to share with you my 20 most anticipated releases of 2016! There are already a whole bunch of books on this list so I decided to leave out sequels for books I haven't read yet but still plan on reading in 2016  otherwise this list would have been way too long. I was going to make this a top 10 list but there were just too many books I couldn't not talk about! But without further ado here they are.
UPDATE: So I just realised after posting this that I had left out the Trials of Apollo by Rick Riordan which is another book that I am very, very excited to read and it comes out May 3rd. Also the official cover for Heartless by Marissa Meyer released online last night which I also updated. 🙂
20. Enter Title Here by Rahul Kanakia
From the synopsis I gathered that this book is about a girl in her senior year of high school who wants to pursue being an author. She is afraid that no one will read her book since she's not the typical American girl and would therefor not be a relatable protagonist. She then goes out to try and change this by doing things such as making friends and getting a boyfriend. Not only does this book seem like it's going to be fun and relatable it's also been getting great review so far making me super excited to get my hands on it as soon as it comes out on August 2nd.
19. Yellow Brick Road by Danielle Page
This is the third, and I believe final, book in the Dorothy Must Die series. I really enjoyed the first book Dorothy Must Die but wasn't the biggest fan of The Wicked Will Rise, the second book. I am still curious though to see how the series will end and I'm hoping this book will redeem the series for me. It's coming out on March 15th so I fortunately won't have to wait for too long!
18. The Siren by Kiera Cass
I don't know too much about this book except I'm assuming it's about Sirens…?? you know, just a random guess. Anyhow, I overall find Keira Cass's books quite entertaining so I'm looking forward to reading another one. It will also be interesting to see how she writes in what I'm guessing is a new fantasy world… In any case I'm going to have fun reading it once it releases on January 26.
17. The Sidekicks by Will Kostakis
I've read Will Kostakis's other novel The First Third which I thoroughly enjoyed. The Sidekicks sounds like it's going to be just as good if not better. I believe it follows three friends who were each separate sidekicks to another boy who has recently died. Together they cope with their grief and adjust to no longer being just sidekicks. I've been looking forward to this book since it was announced and so I'll definitely be reading it when it come out on the 2nd of March.
16. This Is Where It Ends by Marieke Nijkamp
This is another YA debut I'm excited to read this year. The whole book is set within an hour and takes place during a school shooting. The book switches points of view between students each at a different place during the shooting. It sounds like it's going to be a really meaningful and thought-provoking book which I definitely love. Fortunately this book has already been published as of January 5!
15. Thanks For The Trouble by Tommy Wallach
Again, I don't know too much about this book only that it's YA contemporary and Tommy Wallach wrote it, so I'm in! I read his debut novel We All Looked Up last year and absolutely loved it. In fact it was my favourite book of 2015 and was added to the list of my favourite books of all time. I'm hoping I'll like this one just as much and I won't have to wait long to read it since it comes out February 23rd.
14. Passenger by Alexandra Bracken
This book has got a ton of hype over the last year. Everyone who received an ARC of this book seems to be raving about it and it's gotten be super excited to read it as well. I believe it features time travel which sounds interesting but also something that could go quite wrong. I totally trust Alexandra Bracken though to make this novel amazing and since this book already came out on January 5 I'll be getting myself a copy ASAP.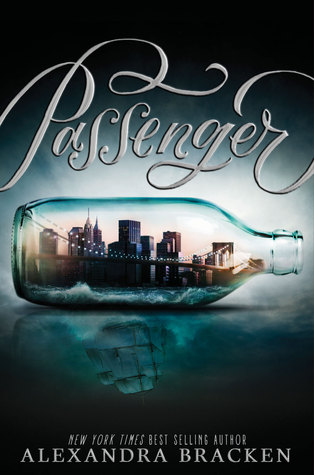 13. Gemina by Aime Kaufman and Jay Kristoff
In case you weren't sure, this is the sequel to Illuminae. I read Illuminae last month and really enjoyed reading it especially since it was written in such a unique format featuring transcripts, emails, text messages and reports. I've heard that this book follows new characters who I'm super excited to met but also features Kady and Ezra from book one. Unfortunately the book hasn't received an official release date yet though is set to release in Fall 2016 so around the months September-November. Damn can't this book come any sooner!
12. Summer Days and Summer Nights: 12 Love Stories by Stephanie Perkins and Other Authors
Remember that book My True Love Gave To Me that came out in 2014. Well meet it's spin-off book Summer Days and Summer Nights. Instead of being a Christmas anthology it instead is filled with short stories set during the summer time by some of my favourite authors such as Cassandra Clare, Veronica Roth and also edited by the wonderful Stephanie Perkins. This is just the book I've been waiting for since finishing My True Love Gave To Me and I can't wait to pick it up after it's released on June 14th.
11. The Crown by Kiera Cass
I actually had a real fun time reading The Heir by Kiera Cass so I'm excited to see what happens next in the sequel. I believe the main character will go through a whole bunch of character development in this book so that is sure to be interesting to see. It's also going to be really fun seeing characters from the original trilogy again. I'm really looking forward to revisiting the Selection world one final time once The Crown is released on May 3rd.
10. A Torch Against The Night by Saba Tahir
Unfortunately I wasn't the biggest fan of An Ember in the Ashes due to all the over-hype and unlimited amounts of YA troupes the book contained. Although I did definitely see potential in the story and I have a feeling that I'll like the second book a whole lot more. I'm curious to see what's going to happen to the character and it's a shame I'm going to have to wait till August 30th to find out. Also I'm definitely curious to see what this cover looks like!!
9. Heartless by Marissa Meyer
As you all probably know The Lunar Chronicles by Marissa Meyer is one of my favourite series of all time so as soon as I heard a new series by her was coming out I rushed to add it to my TBR list. Heartless is a sort of prequel of Alice in Wonderland following the Red Queen when she was a teenager and possibly telling the story of how she became the evil queen she is in the original book. Judging by how Marissa Meyer wrote from a villains POV in Fairest I'm very interested to see how Heartless goes. I'm also curious to see whether the book is meant to redeem the queen or just make up see what turned her evil. This book is coming out on November 8th so it's going to be a while before we can find out but I can't wait!
8. Magnus Chase and the Hammer of Thor by Rick Riordan
I loved the first book in the Magnus Chase and the Gods of Asguard series so I cannot wait to see what Rick Riordan has in store for us. I'm certain that the second book which be just as full of adventure and fun and make me laugh out loud over and over again. I can't wait to see where the story is going to go and meet up with all the amazing characters again. October 4th can't come soon enough!
7. The Last Star by Rick Yancy
I feel like I've been waiting my whole life for this book when really it's been just over a year. This series completely blows my mind with each book and I was devastated when the release date for the last book got pushed back almost a whole year. But nevertheless the release is finally coming and I can't wait to get my hands on this book on May 24th and finally find out what the hell is happening. In the meantime though I'm super excited to watch the movie adaptation of the first book in this series, The 5th Wave which is coming out alter this month and definitely looks promising!
6. A Court of Mist and Fury by Sarah J Maas
This is the sequel to A Court of Thorns and Roses which I read earlier this year and truly enjoyed. I can't wait to see where the second books takes us and I'm super excited to see some of my favourite characters from the first book again. I also heard that this book will have a lot more Rhysand in it and a lot of it will take place in the Night court which I am definitely excited about. I have a feeling this book could have the potential to be a lot more action packed and steamy then the first book so I can't wait to read it when it comes out on the 3rd of May!
5. The Secret Science of Magic by Melissa Keil
I would read literally anything written by Melissa Keil. In case you didn't know Melissa Keil is a YA Australian contemporary author who wrote Life in Outer Space and The Incredible Adventures of Cinnamon Girls both thoroughly enjoyable, entertaining and adorable books. As soon as I saw she had a new book coming I completely freaked out and quickly added it to my TBR pile on Goodreads. It's kind of difficult to summarise the quote but basically it seems like it's going to be a romance set in high school between a smart science girl and this magician boy who has had a crush on her forever and finally wants to tell her. It sounds like it's going to be amazing and I seriously need to read this book now. This book also doesn't have an official release date (or a cover *cry*) though is set for release in September 2016.
4. Throne of Glass Book #5 by Sarah J Maas
Throne of Glass was pretty awesome, Crown of Midnight was heart-wrenching, Heir of Fire was incredible and Queen of Shadows was nothing short of phenomenal. The books in this series keep on getting better and better and I have complete faith that book 5 will continue this trend. This book has no title or cover yet, which needs to change ASAP but I am already highly anticipating it. I know for a fact this book is going to be awesome packed and fabulous and I  cannot wait for it to come out. Like seriously though, it needs to come out RIGHT NOW. The release date though is set for September 6th  so until then you'll find me obsessing over the Queen of Shadows tag on Tumblr! 🙂
3. The Winner's Kiss by Marie Rutkoski
This series is amazing and I'm definitely going to miss it once this final book comes out. I have completely fallen in love with the characters and the plot and it's going to be quite bittersweet seeing it all come to an end. The last book ended on quite a cliff-hanger and I've been waiting and waiting for this book to come out to find out what the hell happens and it's crazy to think I'll be able to find out in just a few months on March 29th. Even better the publisher announced they will be publishing the book with the original cover design so now all my books will match!!!
2. Stars Above by Marissa Meyer
So I've already mentioned it above but I am in absolute love with The Lunar Chronicles series, I finished Winter back in November and have been in a mourning period ever since. Like seriously though this series basically took off my life to the point that I would look up the Cresswell tag on tumblr everyday for a month after reading the book and like/reblog ever single post. What can I say, I am complete Cresswell trash. But anyway I'm really, really hoping this book will fill that whole in my heart that The Lunar Chronicles left. I believe this book is going to be a collection of novellas some previously published while a few other brand new ones which I can't wait for. I also heard there's going to be ANOTHER WINTER EPILOGUE which I have also heard includes a wedding! I REPEAR A WINTER EPILOGUE THAT INCLUDES A WEDDING! I've been sitting here ever since wondering who's it's going to be and I am absolutely bursting to read it. I have read all of the previously published novellas but I'm still excited to read the new ones especially one that I think follows Jacin. Luckily I don't have long to wait with this book being released on February 2nd.
1. Lady Midnight by Cassandra Clare
I HAVE BEEN DYING TO READ THIS BOOK EVER SINCE I FINISHED CITY OF HEAVEN FIRE WAY BACK IN 2014! Everyday since then I have spent every waking and sleeping moment dreaming of the day when I can finally get this book and oh my gosh it's so close. This book is the first in a series following a new set of characters that takes place after the events of The Mortal Instruments. From what we've already learned about them, the new set of characters seem like they're going to be so much fun to read and learn about and I also can't wait to see more of some of our favourite characters from The Mortal Instruments series. This book comes out March 8th but boy do I wish it came out sooner.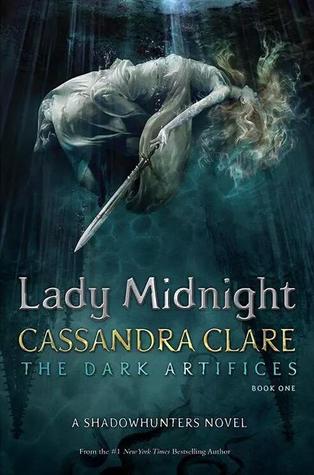 And there we have it! My most anticipated books of 2016! Let me know what books you are looking forward to getting your hands on this year! Thank you so much for reading I'll catch you all next time! 😀
Gabby The Dauntless Warlock xx