Hello 😀
Today's topic is anticipated pre-orders for the rest of the year. Admittedly I don't actually pre-order books since I don't buy books online and just buy them at the bookstore on the fay they come out. Instead I'm just going to talk about my anticipated releases for the rest of the year. I hope that alright with you all and now I'll just get started!
5. Magnus Chase and the Sword of Asguard by Rick Riordan
In case you were unaware, this is Rick Riordan's new series which is about Norse mythology, if this doesn't instantly excite you, I don't know what will. I've only read Rick's Greek mythology books, not his Egyptian one so I'm super excited to see how he tackles another mythology. I also don't know a lot about Norse mythology beside what I learnt from the How To Train Your Dragon movies but I'm excited to learn. I'm even more excited knowing that Magnus is related to Annabeth (hence the same last names) so I'm really hoping for a cameo from some Percy Jackson character which would be freaking awesome. I cannot wait to read this one and it's coming out October 6th which is just under three months away!! YAY!! 😀
4. The Rose Society by Marie Lu
If you haven't read Marie Lu's latest series, The Young Elites, you are seriously missing out and need to get onto it ASAP. If you need any more persuading, the main character is this super scary, but awesome anti-hero who Marie Lu said she loosely based off Dark Vader. Seriously, how could it get any better!! I'm super excited to see what happens in the next instalment though am still a little worried about what the main character will do… Anyway, this book also comes out on October 6th so I'm sure to be found reading all day. 😀
3. Their Fractured Light by Aime Kaufman and Megan Spooner
I absolutely love the Starbound trilogy so far and I'm sure this book won't be an exception. I was completely blown away by the amazingness (yes, that is now a word) of the first too books and I'm really excited to see how the series wraps up in this one. This book follows two new characters, which from the blurb both sound super awesome and I can't wait to read all about them. I'm just hoping this book has as good an ending as I'm expecting, but something tells me I won't be disappointed. Also let's take a moment to appreciate the beautiful cover!! ❤ This book comes out December 1st. 🙂
2. Queen of Shadows by Sarah J Maas
This book is fast approaching and I'm not sure whether to be scared or excited… I adore the Throne of Glass series and anything Sarah J Maas in general. 😛 I'm sure this book is going to be completely epic and amazing and I'm mentally preparing myself for everything that's about to go down. I also still need to read The Assassin's Blade since I believe characters from there are going to make an appearance in this book. This book comes out on September 1st and with less than two months to go I'm totally ready to read the crap out of this one!!
1. Winter by Marissa Meyer
I feel like I have been waiting for this book for my entire life and I am more than ready to read this. I read Cress back when it came out in February 2014, which is basically a lifetime ago. Cress and The Lunar Chronicles in general is one of my favourite books and series. I was basically in tears when I heard I had to wait an extra 9 months for the next instalment. But now friends, the time has come, oh well almost come, and I can barely contain myself. From what goodreads tells me, this book is going to be the biggest in the series which excites me even more! I'm super pumped to read more about Cinder, Cress and Thorne and learn more about Winter and Jacin the only problem is that I'm sure I'll enter into some type of reading slump/ mourning period after finishing this series. Nevertheless I'm mostly excited and I can't wait till November 1st to read the book. It's so close but it feels so far!!! 😀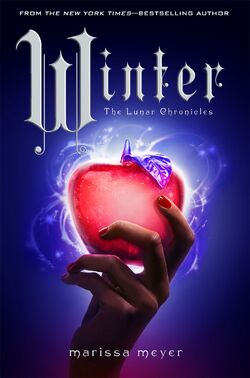 Now I decided I couldn't not talk briefly about these books because I'm still highly anticipating them so I decided to include them under honourable mentions, which are Ten Thousand Skies Above by Claudia Gray, Illuminae by Jay Kristoff and Aime Kaufman, Carry On by Rainbow Rowell and Library of Souls by Ransom Riggs.
So sorry about that, but I couldn't bare not to mention them! There we have it!! Books from the remainder of the year I'm highly anticipating. Comment what books you're anticipating for the rest of the year! Thank you so much for checking out my post and I shall talk with all of you later!
Gabby The Dauntless Warlock xx