Emma: Manga Classics is an adaptation of the classic book Emma written by Jane Austen but in the style of a manga comic written by Jane Austen, edited and adapted by Stacy King and Crystal Chan and illustrated by Po Tse.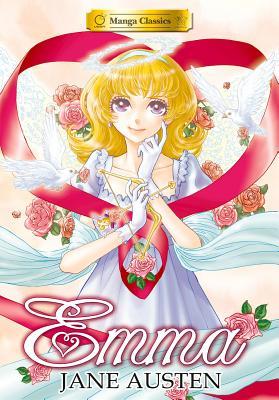 Thank you to the publisher, Udon Entertainment at Net Galley for allowing me to read this book in exchange for an honest review. The book has already been released as of June 17th 2015 so you can buy a copy right now! On to my thoughts on the book!
I just want to quickly add, I have actually yet to read the original Jane Austen version of Emma. The closest I have gotten to watch an adaptation is watching Clueless which in case you weren't aware is loosely based on Emma. Nevertheless it was still fun to point out the similarities I noticed between the two.
In case you didn't know, Emma is about a privileged young woman who promises she will never get married but loves being a matchmaker for all her friends. Emma then meets Harriet who she immediately takes under her wing and tries to pair her up. Throughout the book there are quite a few misunderstandings and matchmaking gone wrong, overall making it very a quick and entertaining story. Accompanied by the detailed and engaging pictures I found myself really enjoying this book.  I thought all of the characters were drawn really well and were easy to identify from each other in the black and white pictures, which I often struggle with in other graphic novels. I really liked the big eye anime look of all the characters making me like them even more.
This is also the first manga comic I have ever read and I found the guide on how to read manga really convenient and helpful. I was actually quite surprised with how easily I got into the habit of reading right to left not only from page to page, but across the different panels. I think this made the book a great first time manga for newbies to the style like me. J
Now on to the story. First off, I thought the adaptation was done quite successfully considering the fact that the Jane Austen book (my edition) is around 500 pages and the manga was only a couple of hundred. I still found the story easy to follow along and I didn't feel like anything major was left out. As a story on its own, I was pleasantly surprised by how much I enjoyed it. I really liked all of the characters particularly Emma and Mr Knightly. I also liked the plot and how everything came together happily at the end. I was happy with how in the end all of the characters go what they deserved, or at least all the good characters did.
What surprised me probably the most was how much I ended up liking Emma. From what I had heard about the book Emma seemed like a pretty selfish, stuck-up brat. It turned out though she was the complete opposite. She was very kind and caring toward her family and friends and I did really admire her honesty. While her matches didn't always end up working well, she really did this for the benefit of others and not just for her own selfish reasons which I liked. Don't get me wrong, she did act a little snobbish at some times during the book but she would immediately go to fix her wrongs. I also really liked Mr Knightley's character who was very understanding and kind toward all of the characters and I really liked how he tried to help Emma be more understanding toward others.
I also liked all of the various pairings in the book. While at first Emma and Mr Knightly made me feel a little awkward considering they're sister/brother in law, I decided that they made such a good match that it didn't really matter in the end. Harriet and Mr Martin were also a very nice couple and I rooted for them from the very start!
In the end this was a really enjoyable book to read and something quite different from what I'd normally read. I would highly recommend it if you liked the book Emma, want to read an adaptation of it, like manga books or are wanting to read more. So if any of the above applies to you or if this might sound like something you'd enjoy, I would highly recommend you pick it up!! I am looking forward to reading more Manga Classics hopefully in the near future! This book has sparked a new interest in me to read the original Jane Austen novel and to re-watch Clueless ASAP.
Gabby The Dauntless Warlock xx